Ontario Consumers Welcome To Stair Treads Canada - BBB A+ Suppliers
Leading Direct Source - Canadian Wide Shipping Right To Your Door

* Our Current Tread Discount Program Is 25% Off Listed Prices *
* Larger Volume Orders May Get 30% - 35% Off! *
Retail & wholesale consumers from Ontario can shop and buy wood stair treads direct from us online and great discount prices. We are leaders in direct home delivery of Canadian made tread caps and full solid stair treads. We also have our very own custom spray booth shop, so we offer prefinished stair treads in clear coat, MinWax stain or custom stain matched to your flooring sample. Customers can buy unfinished treads if they wish to complete the finishing task themselves.

Tread Delivery To: Toronto ( GTA ), Ottawa, Mississauga, Brampton, Regional Municipality of Halton, Hamilton, Regional Municipality of Niagara, London, Markham, Vaughan, Windsor, Kitchener, Richmond Hill, Oakville, Burlington, Greater Sudbury, Oshawa, Barrie, Brantford, St. Catharines, Guelph, Cambridge, Kingston, Ajax, Thunder Bay, Waterloo, Chatham-Kent, Peterborough, Newmarket... and all other cities in Ontario, direct right to your door with a UPS tracking number!

Buy stair treads in Ontario direct from us for a discount price of what you would pay at big building supply stores.

About Us:
Stair Treads Canada is a trusted retail supplier with over 1,000+ shipped wood stair tread orders in the last 5 years. We are known as a leading tread source for all Ontario consumers. Home owners, contractors, retail customers looking to buy stair treads for a great price from a BBB A+ Rates company look no more as we are your one stop shop in Canada for hardwood stair treads. We have built our rock solid reputation on customer service, quality products and competitive pricing.

Certified Memberships: BBB A+ - BBB Accredited - NSHBA Member - Chambers of Commerce Member

Our mission is very simple and straight to the point: "to offer our high quality unfinished or prefinished stair treads and stair parts at the best possible prices to all consumers - Canada wide!".

Our Product Line::
We offer 1-1/16" standard hardwood stair treads and 3/4" full false stair treads ( full replacement tread covers / caps ) and custom treads in many wood types and sizes: american cherry, ash, yellow birch, hard maple, knotty pine, jatoba, hickory, mahogany, red oak, walnut, white oak; plus many other hardwood stair tread types. We also manufacture custom stair treads to fit your job site needs: full false treads, pie treads, volute treads & risers, 2 pc. & 3 pc. winder tread sets, and oversize stair treads ( extra Thick, extra wide / extra long ). We offer both unfinished and/or prefinished stair treads and risers to our customers ( see below for more information ).

Our Stair Treads Specifications:
Our treads are made from 3-8 pieces of solid hardwood lumber, edge glued together. You can get stair treads with a color matched face or a more color character face, based on the grade you prefer. Both our "select & better clear" and "select & better natural" grade stair treads are made of 100% solid hardwood lumber; manufactured to exceed industry strength standards ( not veneer top / not press wood core ).

Busting The Stair Treads Myth:
Many consumers are under the assumption that a stair tread made from 3-8 pieces of hardwood lumber is not as good as a stair tread made of one solid piece of lumber. This assumption is very, very far from the truth. A stair tread made from only 1 or 2 pcs. of hardwood lumber has very little strength and/or structural integrity, thus these one or two piece stair treads are prone to cupping and warping ( failing to meet indusrty standards ). Note: we will not stock one or two piece hardwood stair treads and we don't manufacture them!

We Can Manufacture To Fit Your Needs:
Do you need hardwood stair treads that are extra thick, extra long, extra wide or made from an exotic hardwood ( like american cherry, jatoba or white oak )? If so, it is no problem to us, as we can manufacture 100% solid hardwood stair treads to meet your job site specifications; in our own custom mill work shop.

We Offer Prefinished Stair Treads:
We can pre-finish your hardwood stair treads and risers order in our professional spray booth finish shop, so your treads are ready to install the day you receive them. From a natural clear coat, to a custom stain match to your flooring, or 1 of 25 MinWax colors, when it comes to prefinished stair treads we cover all the bases.
Visit our spray booth finish page here to get all the details.



Hardwood Stair Treads Inventory Note: We only stock select & better grade "natural face" red oak & yellow birch treads ( all other wood types are special order with a 2-3 week lead-time ).

Select & Better "Natural Grade" Stair Treads: Gives a bit more color variation and face character in the treads overall appearance ( this tread is 90% of what matches most peoples hardwood flooring and the natural wood look is what most people desire ).

Select & Better "Clear Grade" Stair Treads: Gives very little color variation and has a very uniform appearance, with very little color change in the face of the tread ( this tread is quite plain looking and thus does not match the character in most peoples hardwood flooring ).

Price Note: Clear grade stair treads are sold at a up-charge cost of $5.00 more per tread than natural grade stair treads.

Understanding Your Needs: The grade of stair treads you select should be based on what matches your flooring best and what you want to achieve in your desired end look ( natural grade is the #1 seller ).

Contact Us: If you want to get a quote ( or have any questions ) please email us the following information:


The amount, the hardwood type, sizing details, your delivery address.

Please send us any other information that you feel will help.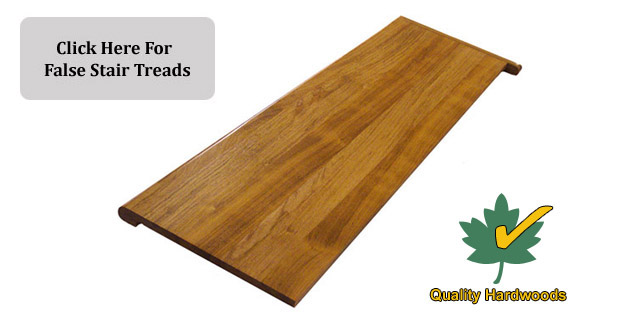 ---
Wood Stairs Canada Suppliers Of Quality Extra Thick Stair Treads In Many Hardwoods.

Sizes: 1-1/2", 1-3/4", 2", 2-1/4", 2-1/2", 2-3/4", 3", Etc... Good Two Face Stair Treads.


The Details We Need From You:
The length x width x thickness of the extra thick stair treads?
The hardwood specie of the extra thick stair treads?
The amount of the extra thick stair treads that you require?
The shipping address to where the product is being delivered to?
If the shipment is a B2B or B2R delivery?
We will gladly quote your job with a landed price and a stated lead-time ( no hidden fees and no missing details ).

Thick Tread Construction Details You Need To Know:


1-3/4" thick stair treads or less thick will be manufactured in standard tread construction method. This means the treads are made in the edge glue construction method, with face grain showing on both faces ( Note: the same as all standard stair treads and full false treads we supply / manufacture ).


1-7/8" thick stair treads or more thick will be manufactured in butch block tread construction method. This means the treads are made in the face glue construction method, with edge grain showing on both faces ( Note: most all manufactures in todays stair parts industry will make all treads 2" or thicker in this method ).


---
Visit Our Parent Company To View Our Full Product Line: Scotia Stairs Limited.
Quality Canadian Made Staircase Parts: Box Newel Post, Balusters, Railings, Etc.

---
1-1/16" Standard Stair Treads | 3/4" False Stair Treads | Extra Thick / Wide - Pie Shaped - Winder Sets - Email Us
Hardwood Stair Risers | Hardwood Stair Skirts | Hardwood Stair Nosings | Hardwood Stair Trims |
Prefinished Stair Treads Section | Stair Parts From Scotia Stairs Ltd. | Back To Main Page

---
Copyright © All Rights Reserved By StairTreads.Ca - Stair Treads Canada Is Fully Owned & Operated By Scotia Stairs Limited