Welcome To Stair Treads Canada - Your BBB A+ Rated, Award Winning, Direct Suppliers

Solid Hardwood Tread Caps - Standard & Modern Square Nose
Many Types Of Custom Wood Treads At Discount Prices

500+ Happy Customers Every Year - We Offer Canadian Wide Home Delivery

Our Current Stair Tread Discount Program Is 25% Off Listed Prices

Larger Volume Orders May Qualify For 30% Off - Please Enquire
Our County Wide Impact:
Canadian consumers from coast to coast shop and buy many types of wood stair treads direct. We are one of Canada's leading stair companies shipping to: Newfoundland, Ontario, Alberta, British Columbia and all Provinces. We are leaders in direct home delivery of Canadian made solid stair treads offering: modern square, extra thick, false, pie, standard, winder sets and more all at Great discount prices, amazing products and shipping right to your door, all at a great cost!

Many Tread Choices:
False replacement retrofit caps, custom hardwoods, standard, pie curve stairs, volute starting treads, 3pc. winder sets, extra wide / thick treads, etc. Our solid hardwood stair treads are 100% Canadian made with the finest hardwood lumber. We manufacture and custom make to meet your job site needs ( we are known as "the tread people" ).

Many wood types:
red oak, birch, ash, maple, knotty pine, american cherry, jatoba ( brazilian cherry ), walnut, white oak, etc.

Pre-finished or Raw:
We have a custom spray booth shop, so we specialize in prefinished stair treads in: clear coat, MinWax stain or custom stain matched to your flooring sample. Customers can buy unfinished treads if they wish to complete the finishing task themselves.

We Are Retail Consumer Driven:
We Are A Multiple Consumer Choice Award Winner ( in 2016 for Overall Consumer Satisfaction and now we just won the 2018 Business Excellence Award in the Stair & Rail Category ) - BBB A+ Rated and deal with 500+ Canadian consumers direct each and every year and save their hard earned money! Get discount prices and pay a much less than what you would pay at big building supply stores like: ACE LumberMart©, Home Depot©, Home Hardware©, Kent Building Supplies©, Lowes Canada©, Rona©, Timber Mart©, Etc... We Ship Right To Your Home! Home owners, contractors, retail consumers ( even wholesalers ) looking to buy stair treads for a great price from a trusted source, look no more as we are your one stop shop in Canada for hardwood stair treads. We have built our rock solid reputation on customer service, quality products and competitive pricing. Our main focus is the retail buyer and direct shipping to the home owner!

Thank You To All Our Customers:
We would like take the time to thank you for coming to our web site and we also want to say thank you to our 5,000+ happy customers from the past 10 years!

Certified Memberships: BBB A+ - BBB Accredited - CHBA Member - Chambers of Commerce Member

Our mission is very simple and straight to the point: "to offer our high quality unfinished or prefinished stair treads and stair parts at the best possible prices to all consumers - Canada wide!".

Our Product Line::
We offer 1-1/16" standard hardwood stair treads and 3/4" full false stair treads ( a.k.a full replacement tread covers / caps ) and custom treads in many wood types and sizes: american cherry, ash, yellow birch, hard maple, knotty pine, jatoba, hickory, mahogany, red oak, walnut, white oak; plus many other hardwood stair tread types. We also manufacture custom stair treads to fit your job site needs: full false treads, pie treads, volute treads & risers, 2 pc. & 3 pc. winder tread sets, and oversize stair treads ( extra Thick, extra wide / extra long ). We offer both unfinished and/or prefinished stair treads and risers to our customers ( see below for more information ).

Our Stair Treads Specifications:
Our treads are made from 3-8 pieces of solid hardwood lumber, edge glued together. You can get stair treads with a color matched face or a more color character face, based on the grade you prefer. Both our "select & better clear" and "select & better natural" grade stair treads are made of 100% solid hardwood lumber; manufactured to exceed industry strength standards ( not veneer top / not press wood core ).

Busting The Stair Treads Myth:
Many consumers are under the assumption that a stair tread made from 3-8 pieces of hardwood lumber is not as good as a stair tread made of one solid piece of lumber. This assumption is very, very far from the truth. A stair tread made from only 1 or 2 pcs. of hardwood lumber has very little strength and/or structural integrity, thus these one or two piece stair treads are prone to cupping and warping ( failing to meet indusrty standards ). Note: we will not stock one or two piece hardwood stair treads and we don't manufacture them!

We Can Manufacture To Fit Your Needs:
Do you need hardwood stair treads that are extra thick, extra long, extra wide or made from an exotic hardwood ( like american cherry, jatoba or white oak )... or modern square nose ot pie shaped treads for a curved staircase. If so, it is no problem to us, as we can manufacture 100% solid hardwood stair treads to meet your job site specifications; in our own custom mill work shop.

We Offer Prefinished Stair Treads:
We can pre-finish your hardwood stair treads and risers order in our professional spray booth finish shop, so your treads are ready to install the day you receive them. From a natural clear coat, to a custom stain match to your flooring, or 1 of 25 MinWax colors, when it comes to prefinished stair treads we cover all the bases.

Visit our spray booth finish page here to get all the details.



Hardwood Stair Treads Inventory Note: We only stock select & better grade "natural face" red oak & yellow birch treads ( all other wood types are special order with a 2-3 week lead-time ).

Select & Better "Natural Grade" Stair Treads: Gives a bit more color variation and face character in the treads overall appearance ( this tread is 90% of what matches most peoples hardwood flooring and the natural wood look is what most people desire ).

Select & Better "Clear Grade" Stair Treads: Gives very little color variation and has a very uniform appearance, with very little color change in the face of the tread ( this tread is quite plain looking and thus does not match the character in most peoples hardwood flooring ).

Price Note: Clear grade stair treads are sold at a up-charge cost of $5.00 more per tread than natural grade stair treads.

Understanding Your Needs: The grade of stair treads you select should be based on what matches your flooring best and what you want to achieve in your desired end look ( natural grade is the #1 seller ).

Contact Us: If you want to get a quote ( or have any questions ) please email us the following information:


The amount, the hardwood type, sizing details, your delivery address.

Please send us any other information that you feel will help.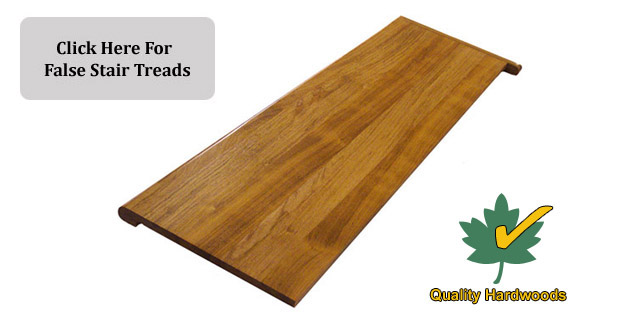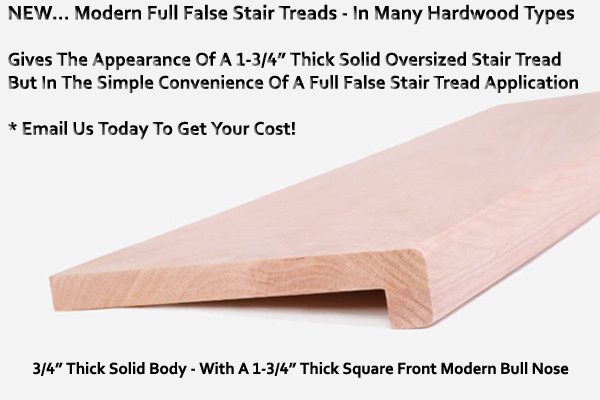 ---
Direct Suppliers Of Good Two Face Extra Thick Stair Treads In Many Hardwoods.

Finished Thickness Sizes: 1-1/2", 1-3/4", 2", 2-1/4", 2-1/2", 2-3/4", 3", 3-1/4", 3-1/2", 3-3/4" & 4".


The Details We Need From You:
The length x width x thickness of the extra thick stair treads?
The hardwood specie of the extra thick stair treads?
The amount of the extra thick stair treads that you require?
The shipping address to where the product is being delivered to?
If the shipment is a B2B or B2R delivery?
We will gladly quote your job with a landed price and a stated lead-time ( no hidden fees and no missing details ).

Thick Tread Construction Details You Need To Know:


FACE GRAIN THICK TREADS: 1-1/2" & 1-3/4 thick stair treads can manufactured in standard tread construction methods at all times. This means the tread will ne made from 2" rough hardwood lumber and milled down to a finish thickness size of 1.5" or 1.75"; in the edge glue construction method, with face grain showing on both faces. ( Note: at times we can manufacturer face grain thick treads at 2", 2-1/4", 2-1/2" and 2-3/4" so it is always best to ask for a quote on these sizes in both face grain and butcher block style, so you can compare the cost ).


EDGE GRAIN THICK TREADS: 2" - 4" thick treads will manufactured in butch block tread construction method ( see note above 2" - 2-3/4" can at times be done in face grain method ), this is never a problem. This simply means the thick tread is made in the face glue construction method, with edge grain showing on both faces, like a butcher block.


---

We Offer Canada Wide Shipping Of Our Hardwood Stair Treads To All Canadian Cities:
Alberta ( ALTA ) - Calgary, Edmonton, Grande Prairie, Lethbridge, Medicine Hat, Red Deer, St. Albert, Strathcona, Wood Buffalo, Etc... British Columbia ( BC ) - Abbotsford, Burnaby, Coquitlam, Delta, Kamloops, Kelowna, Langley, Vancouver, Nanaimo, North Vancouver, Richmond, Saanich, Surrey, Victoria, Etc... Manitoba ( MAN ) - Brandon, Winnipeg, Etc... New Brunswick ( NB ) - Moncton, Saint John, Campbellton, Bathurst, Fredericton, Sussex, Grand Falls, Edmunston, Etc... Newfoundland and Labrador ( NL ) - Conception Bay South, Corner Brook, Mount Pearl, St. John's, Etc... Northwest Territories ( NWT ) - Yellowknife... Nova Scotia ( NS ) - Dartmouth, Halifax, Bedford, Truro, Wolfville, Yarmouth, Etc... Nunavut ( NUNA ) - Iqaluit... Ontario ( ONT ) - Barrie, Brampton, Brantford,Burlington, Cambridge, Greater Sudbury, Guelph, Kawartha Lakes, Hamilton, Kingston, Kitchener, London, Markham, Niagara Falls, Oshawa, Ottawa, Mississauga, Peterborough, Pickering, Sarnia, Sault Ste. Marie, St. Catharines, Thunder Bay, Toronto ( Greater GTA ), Vaughan, Waterloo, Windsor, Etc... Prince Edward Island ( PEI ) - Charlottetown, Summerside, Etc... Quebec ( QUE ) - Gatineau, Laval, Levis, Montreal, Longueuil, Quebec, Repentigny, Saguenay, Saint-Jean-sur-Richelieu, Sherbrooke, Terrebonne, Trois-Rivi res, Etc... Saskatchewan ( SASK ) - Moose Jaw, Prince Albert, Regina, Saskatoon, Etc... Yukon ( YT ) - Whitehorse.
---
To Enquire/Order - Standard, False, Extra Thick, Pie Shaped Stair Treads, Etc.
Email Us Today By Selecting & Clicking On Your National Flag Below.
Canadian Email
USA Web Site
Visit Our Parent Company Today To View Our Full Stair Parts Product Line: Scotia Stairs Limited.
Quality Canadian Made Staircase Parts: Box Newel Post, Balusters ( wood and metal ), Hand Railings, Etc.
---

1-1/16" Standard Stair Treads | 3/4" False Stair Treads | Extra Thick / Wide - Pie Shaped - Winder Sets - Email Us
Hardwood Stair Risers | Hardwood Stair Skirts | Hardwood Stair Nosings | Hardwood Stair Trims |
Prefinished Stair Treads Section | Stair Parts From Scotia Stairs Ltd. | Back To Main Page


---


View 100's Of Our New Metal Baluster Products - 10+ Designer Colors
Both Round & Square Shaft Profiles - Geometric & Stainless Steel Spindles Also
Many Iron Baluster Orders Of $500.00 + Tax Qualify For Free Shipping Canada Wide
Atlantic Provinces (NS, PEI, NB, NL), Ontario (ON), Alberta (AB) and British Columbia (BC)


View Our Face Book Page To See Our Finished Stair Treads Installed
We Ship Our Stair Parts Right To Your Door - Hassle Free
Please Do "LIKE US"... It's Appreciated - Thank You!
Copyright © All Rights Reserved By StairTreads.Ca - Stair Treads Canada Is Fully Owned & Operated By Scotia Stairs Limited